Healthy Lunch Boxes
Please send your child into school with a healthy lunch box. We would encourage all parents to think about how much fat and sugar are in their child's lunch. We encourage sandwiches/ pasta/ hummus, vegetables, fruit, yoghurts and sugar free drinks. If sending a cake bar please choose a smaller one. Below are some ideas.
Creamy hummus dip with pitta bread and vegetable sticks recipe
This creamy dip is fun to eat and makes a change from sandwiches. This works well with a banana and a pot of sugar-free jelly.
Prep: 10 mins
Serves 1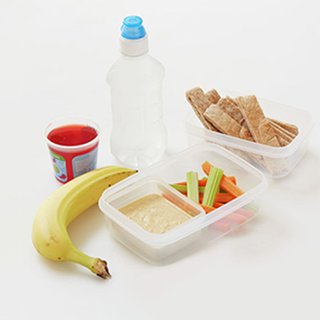 Ingredients
2 heaped tablespoons tinned chickpeas
Juice of half a lemon
1 tablespoon low-fat Greek style yoghurt
1 tablespoon olive oil
¼ teaspoon paprika (or to taste)
¼ teaspoon cumin (or to taste)
1 clove of garlic (peeled)
1 large wholemeal pitta bread, cut into strips
1 small carrot, cut into sticks
1 stick of celery, cut into sticks
Complete your lunchbox with:
banana
sugar-free jelly pot
small bottle of water
Method
Put the chickpeas, lemon juice, yoghurt, oil, spices and garlic in a bowl.

Using a hand blender, mix together until smooth.

Information:

Make the hummus the previous evening and store in the fridge. As well as saving time, the flavours will have time to develop.

Serve with the pitta bread strips and carrot and celery sticks.

Information:

Hummus makes a great after-school snack. If you're using a shop-bought hummus, choose a reduced-fat version.

Egg mayonnaise and lettuce bap recipe

Eggs are a great source of protein for kids that are growing. This works well in a lunchbox with some cherry tomatoes and a fruit snack pot.

Prep: 10 mins
Cook: 12 mins
Serves 1

Ingredients

1 egg
1 level tablespoon reduced-calorie mayonnaise
large pinch of black pepper
1 large wholemeal bap
small wedge of lettuce, to give 2 tablespoons when shredded

Complete your lunchbox with:

5 cherry tomatoes
fruit snack pot (tinned fruit in juice)
200ml semi-skimmed milk

Method

Place the egg in a small saucepan covered with water, bring to the boil and cook for 10 minutes. Plunge in cold water and leave to cool.

Information:

Cook the egg the night before to save time in the morning rush.

Remove shell and mash the egg with the mayonnaise and pepper.

Use to fill the bap, topping with the lettuce.

Information:

Try cress or baby spinach instead of the lettuce. Pat it dry before adding to the bap, to avoid soggy bread.

Tuna mayonnaise and sweetcorn sandwich recipe

The mild flavour of tinned tuna combined with sweetcorn. This would work well with sticks of carrot or cucumber and some mixed berries.

Prep: 10 mins
Serves 1

Ingredients

half a 160g can of tuna in spring water, drained
1 level tablespoon reduced-calorie mayonnaise
1 heaped tablespoon sweetcorn (tinned, or cooked from frozen)
large pinch of black pepper
2 thick slices of half-and-half bread

Complete your lunchbox with:

1 small carrot and a 3cm chunk of cucumber, cut into sticks
60g mixed berries
200ml semi-skimmed milk

Method

Mix the tuna with the mayonnaise, sweetcorn and pepper.

Information:

Mix the filling the night before and store in the fridge to save time in the morning.

Sandwich the mixture between the slices of bread.

Information:

Double the recipe to use the rest of the can of tuna if you have 2 lunchboxes to prepare.

5 day meal plan example

Before your kids head off to school, here are a few great snack ideas you can choose from to make sure your children have a colourful and nutritious lunch. (Plus a treat or two for good measure!) Feel free to mix and match items from this week-long meal plan to make it your own.

Monday

Tuesday

Wednesday

Thursday

Friday